The problem with Ronna McDaniel: The RNC chair's problems run deeper than Vivek Ramaswamy's mockery
WASHINGTON, DC: Tensions escalated during the third Republican Party debate as presidential candidate Vivek Ramaswamy criticized recent Republican defeats in key state elections and called his own political faction a "party losers."
During his opening statement, Ramaswamy targeted Republican National Committee (RNC) Chairwoman Ronna McDaniel, calling for her resignation due to the current state of the party.
Also read: Bill Maher criticizes Barack Obama's 'moral equivalence' stance on Israel-Hamas conflict, Internet agrees
However, it appears the issues with the RNC chairman run deep, ranging from controversies over campaign donations to mocking remarks directed at Democrats.
Vivek Ramaswamy vs. Ronna McDaniel
"We have become a party of losers at the end of the day," Vivek Ramaswamy said during the third GOP debate, adding: "Since Ronna McDaniel took over as RNC chair in 2017, we have lost 2018, 2020, 2022. , no red wave, that never happened. We got beat last night in 2023."
After the debate, McDaniel quickly fired back at Ramaswamy on Fox Business Network's "Varney & Co," saying the presidential candidate "needs a title" because of his low 4 percent rating.
Also read: "Megyn Kelly is back!" Upcoming GOP debate moderator news has everyone tuning in
Additionally, she defended the RNC's position, mentioning that they were not involved in state-level races and suggesting that Ramaswamy was relatively new to the party.
---
---
Also Read: Donald Trump Mocked 'President Obama' Gaffe, But His Fans Bizarrely Say He's Right
The divide is deepening as the Republican Party faces internal strife following significant losses in key elections in states including Kentucky, Virginia and Ohio in the Tuesday, Nov. 7, election. Next month's debate will only up the ante with increased polling and donor demands, according to The Hill.
Issues Surrounding RNC Chairwoman Ronna McDaniel
Shortly after Vivek Ramaswamy's stunt against Ronna McDaniel, the internet seemed to side with the presidential candidate, particularly due to the controversies that have plagued the RNC chair since she took the position in 2017.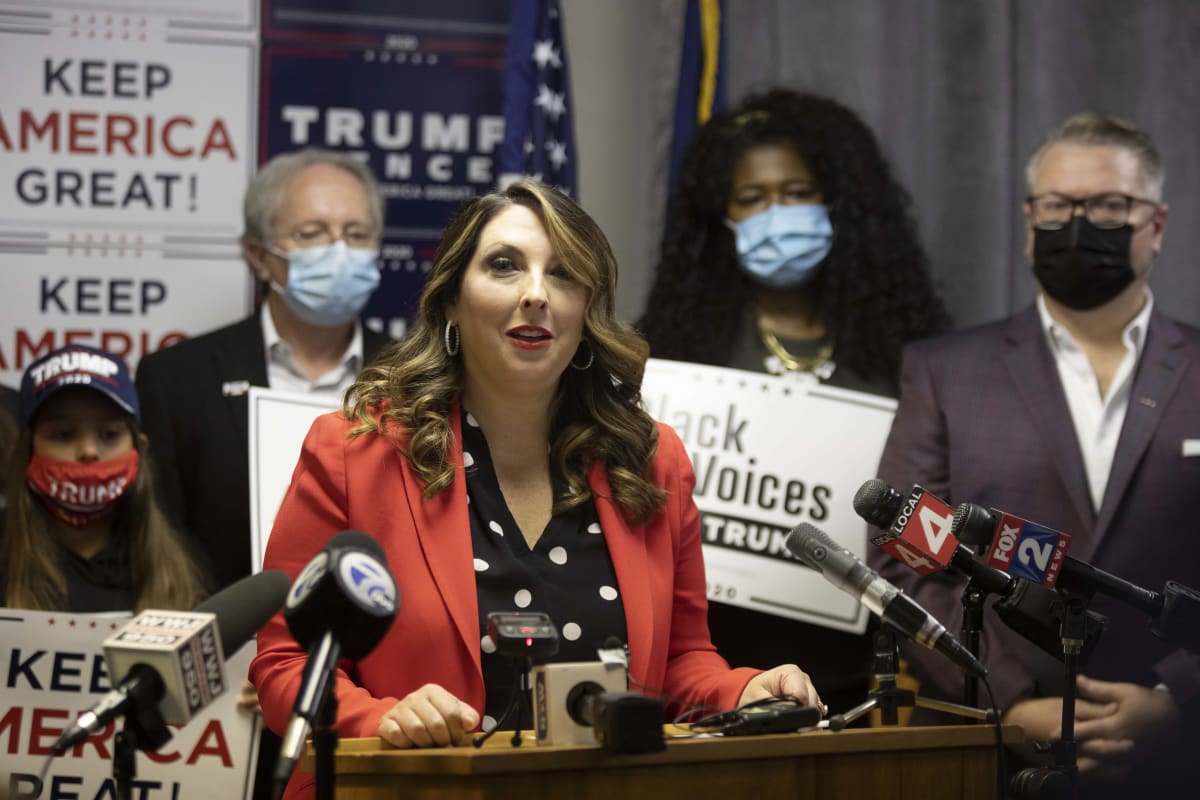 Since becoming chair of the Republican National Committee, Ronna McDaniel has been criticized on several occasions (Getty Images) Reaction following a statement on the LGBT community
In 2021, Ronna McDaniel made headlines when she released a statement in support of LGBT Pride Month, a move that drew praise but also sparked backlash from social conservatives. The president's failure to issue similar statements in 2022 and 2023 has intensified criticism, leading to accusations of wavering commitment.
To address the fallout, McDaniel apologized for failing to adequately communicate the initiative, clarifying that the RNC Pride Coalition she announced did not change the GOP's position on same-sex marriage.
Claims regarding alleged 2020 election fraud
Ronna McDaniel's involvement in perpetuating unfounded claims of widespread voter fraud following Joe Biden's victory in the 2020 election has drawn the ire of Donald Trump's critics.
Despite the lack of evidence, McDaniel claimed large-scale fraud, aligning himself with then-President Trump. He notably supported McDaniel's re-election as RNC chair in the January 2021 elections, further linking his fate to the contentious post-election period.
Accusations regarding campaign donations
Ronna McDaniel has faced scrutiny for her handling of campaign donations, particularly as it relates to accused figures. After Harvey Weinstein, a major donor to the Democratic Party, faced sexual abuse allegations in 2017, McDaniel demanded the return of his contributions.
However, when Steve Wynn, RNC finance chairman, faced similar accusations in 2018, McDaniel pleaded for "due process" and delayed the return of donations until an investigation had been carried out. place.
The controversy intensified when it was revealed that Wynn had donated nearly $400,000 to the Republican Party in May 2019, raising questions about the RNC's ethical considerations.
"Pay-to-play" allegations regarding ambassador appointment
In September 2019, Ronna McDaniel reportedly sent an email to Doug Manchester, a stalled ambassadorial candidate, requesting a substantial $500,000 donation to the Republican Party. The email, described by some as a "possible pay-to-play scheme," raised eyebrows and drew attention to potential ethics violations.
Subsequent reports of a federal grand jury investigation in 2021, focused on McDaniel, Manchester and others, added even more intrigue to the claims.
Attacks on James Comey, Twitter and the electoral process
Under the leadership of Ronna McDaniel, the RNC allegedly created a website in 2018 explicitly intended to undermine former FBI Director James Comey, accusing him of being a "liar" and a "leaker."
Additionally, in 2018, she claimed that Twitter was banning Republicans, although Twitter (now X) denied this, attributing the problem to a glitch.
Reports surfaced in November 2018 that McDaniel had urged Republican candidate Martha McSally to take a more aggressive stance during the ballot counting process in the Arizona Senate race.
ProPublica revelation on RNC contracts
In May 2020, ProPublica reported that major RNC contracts had been awarded to companies closely associated with Ronna McDaniel, including her husband's company and those supporting her 2015 run for president of the Michigan Republican Party.
The revelations raised concerns about possible conflicts of interest surrounding his leadership.
Making fun of Democrats
On October 27, 2022, Ronna McDaniel allegedly mocked prominent Democratic politicians, including John Fetterman, then lieutenant governor of Pennsylvania and candidate for the U.S. Senate, and President Joe Biden, over their speech impediments.
The incident drew criticism for insensitivity, especially since Fetterman was recovering from a stroke at the time.
More than
Marjorie Taylor Greene vs. Lauren Boebert: How the Right's Poster Girls Declared War on Each Other
"You are the problem!" » Marjorie Taylor Greene trolled Mike Johnson 'don't want to impeach' Joe Biden claim