The 6 Steps to Meeting Taylor Swift: From Dad Photos to Meeting the Parents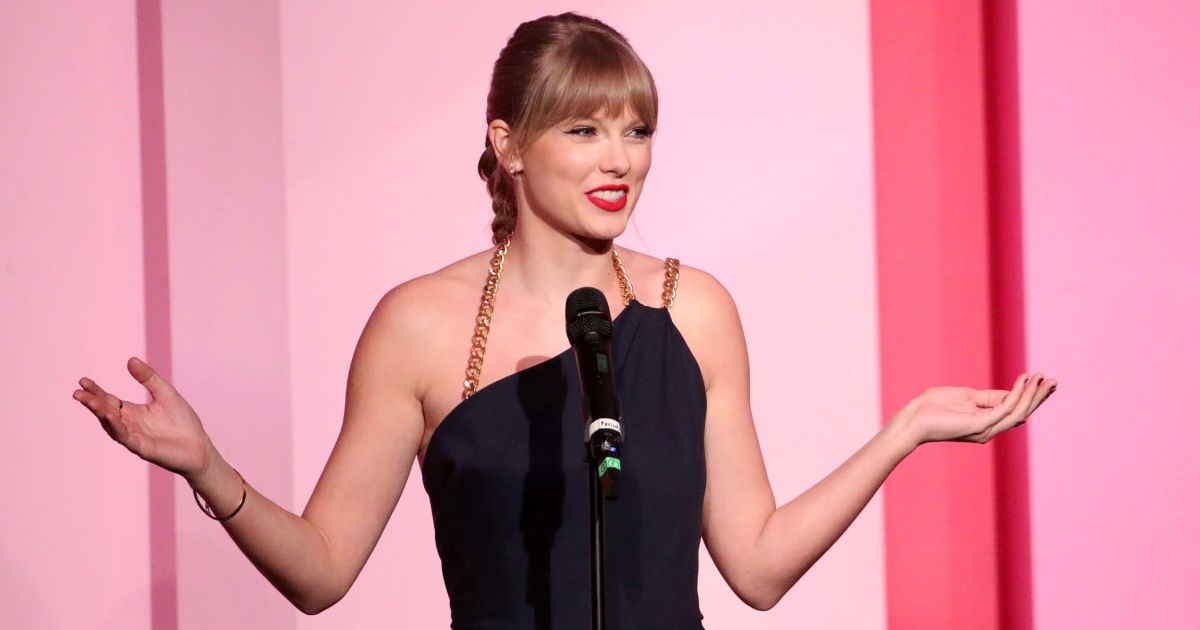 LOS ANGELES, CALIFORNIA: As a globally loved pop star, Taylor Swift refrains from talking about her love life, but she likes to drop hint after hint about her exes in her hit songs.
The "I Knew You Were Trouble" singer is currently enjoying great success thanks to her Eras tour and "1989 (Taylor's Version)." But her love life is still not in the spotlight.
Also Read: Taylor Swift News Diary: Pop Star Sends Fans Into A Frenzy With First Public Kiss With Travis Kelce

Taylor Swift performs on stage (Getty Images)
Swift is currently making headlines for her whirlwind romance with new "lover" Travis Kelce, who expressed interest by trying to slip the singer his phone number on a friendship bracelet during an Eras tour concert .
Their romance came after her short fling with Matty Healy, whom she dated after Joe Alwyn. The "Stars at Noon" actor dated Swift for almost 6 years before splitting in April 2023.
The couple has never spoken publicly about their relationship, but Swift confirmed their breakup in her new track "You're Losing Me."
Also Read: Fans Awestruck As Britney Spears Calls Taylor Swift Her 'Girl Crush' While Sharing Photos From First Meeting

Taylor Swift and Travis Kelce (Instagram/ @voguemagazine)
Writing songs about her ex seems like the final step in a relationship for the singer, whose discography is dedicated to what she learned and experienced in love.
Also Read: 'Didn't Hurt Taylor Swift': Bill Maher Weighs In On Swifties While Discussing Joe Biden's Plummeting Support Among Black Voters
Here are the six important steps to dating Taylor Alison Swift.
Keep it private
Due to her worldwide fame, the "Lover" singer's relationships somehow manage to find their way into the light. But Swift herself refrains from talking about her love life in public.
Whether it's her long-term romance with Alwyn or her short-lived affair with Lucas Till, the singer has mastered the art of keeping her personal life under wraps.
In songs dedicated to Alwyn, Swift has previously spoken about her decision to keep her relationship out of the spotlight.
---
🚨| Taylor Swift and Joe Alwyn have broken up after six years together, ET reports. pic.twitter.com/aXKSQxmKL6
– ada (@ohmymymytv) July 17, 2023
---
In the song "Paris" from her latest album "Midnights," Swift wrote: "Privacy sign on the door, on my whole page and on the whole world. Romance is not dead if you keep it only to yourself.
These and several other phrases reflected her desire to keep her relationship secret and away from the incessant rumors and judgments of strangers, whom she had encountered in the past.
Be seen by the pap
Taylor Swift and the paparazzi continue to share a friendly relationship, which explains the abundance of glitzy photos showing the singer with her new lovers.
Most recently, paparazzi captured the singer having a late-night dinner with Kelce at the Waverly Inn in the West Village, after the NFL star spent the day watching his brother Jason and the Philadelphia Eagles take on the New York Jets in New Jersey.
---
SO…Taylor Swift dated Jake Gyllenhaal and later she dated Harry Styles and Jake Gyllen was also with Olivia Wilde who is now dating Harry Styles pic.twitter.com/DSjwuP6jDU
– 𝕄𝕪𝕝𝕒 🏳️‍🌈 (@hswift_) November 17, 2021
---
Previously, the "Midnight Rain" singer was in a relationship with her lovers, including Jake Gyllenhaal, Harry Styles, Tom Hiddleston and Healy.
That said, some of her lovers, including Joe Jonas, Calvin Harris, John Mayer and Lucas Till, never made it to this point.
Meet friends
In the age of Gen Z, getting your friends' approval of your partner is more crucial than your parents'. And Swift also follows this unspoken rule.
Previously, it was reported that the singer's whirlwind romance with Healy failed to take off due to disapproval from his girl gang, which includes Selena Gomez, Martha Hunt, Blake Liverly, Lucier and Gigi Hadid.

Taylor Swift, models Gigi Hadid, Karlie Kloss and Lily Aldridge attend the 2015 MTV Video Music Awards at Microsoft Theater on August 30, 2015 in Los Angeles, California (Getty Images)
It's obvious that Swift thinks twice before introducing her lovers to her friends, as many of them would have never met the gang.
His romance with Kelce is currently on a positive path, but he hasn't met his buddies yet.
Visit the workplace
The "Lavender" singer is apparently a good girlfriend, who visits her boyfriend's workplace to encourage them and cheer them up.
In October of this year, she was seen cheering on Chiefs tight end Travis Kelce as his team took on the Denver Broncos at Arrowhead Stadium.

Taylor Swift and Donna Kelce applaud before the game between the Kansas City Chiefs and the Denver Broncos on October 12, 2023 in Kansas City, Missouri (David Eulitt/Getty Images)
In early January 2023, Swift made a surprise appearance at the 1975 London concert, performing her single "Anti-Hero" live for the first time.
Previously, it was reported that she quietly joined Alwyn at the New York Film Festival premiere of his latest film, "The Favorite," but avoided the red carpet.
Meet the parents
Swift seems to have a knack for bonding with her boyfriends' mothers. In September, the "Cruel Summer" singer was spotted at a Kansas City Chiefs game, looking stunning in red as she cheered on Kelce with her mom Donna Kelce.
She also reportedly shared a close bond with Hiddleston's mother. The "Loki" actor and Swift shared a brief romance, but neither wasted time meeting the other's parents.
In 2016, the singer flew to England to spend time with Hiddleston and his mother, Diane Hiddleston, less than two weeks after the celebrities' first public appearance.
---
5 years ago, Taylor Swift visited Tom Hiddleston's mother in Suffolk, England.
June 24, 2016 pic.twitter.com/ONkvcII1Yq
— Taylor Throwbacks (@ThrowbackTaylor) June 25, 2021
---
During her romance with Alwyn, she got along so well with the actor and his family that she even quarantined with them during the height of the COVID-19 pandemic in 2021, according to the List.
Breakup song
Writing breakup songs inspired by her boyfriend seems like the final step in a relationship for Taylor Swift. She previously wrote "All Too Well" for her ex Jake Gyllenhaal, whom she dated between October 2010 and January 2011.
In 2014, she released her hit "Style," which describes two people who can't stay away from each other because they're just a classic couple.
The title was perhaps a bit ridiculous, as it is believed to be about Harry Styles, who Swift dated briefly between 2012 and 2013.
"Back to December" is one of Swift's most popular songs that received immense attention after fans realized it was inspired by her former lover Taylor Lautner.
Swift also wrote a good number of hit songs for Alywn, including "End Game," "Magnifique," "King of My Heart" and "All the Girls You Loved Before."
More than
Fans Rejoice at Travis Kelce's Reaction as Taylor Swift Points at Him During 'Blank Space' Performance
Then and Now: How All of Taylor Swift's Exes Behaved After Splitting From the Queen of Pop