Teacher Pay Fund: Arizona GOP plans to raise K-12 teacher salaries above national average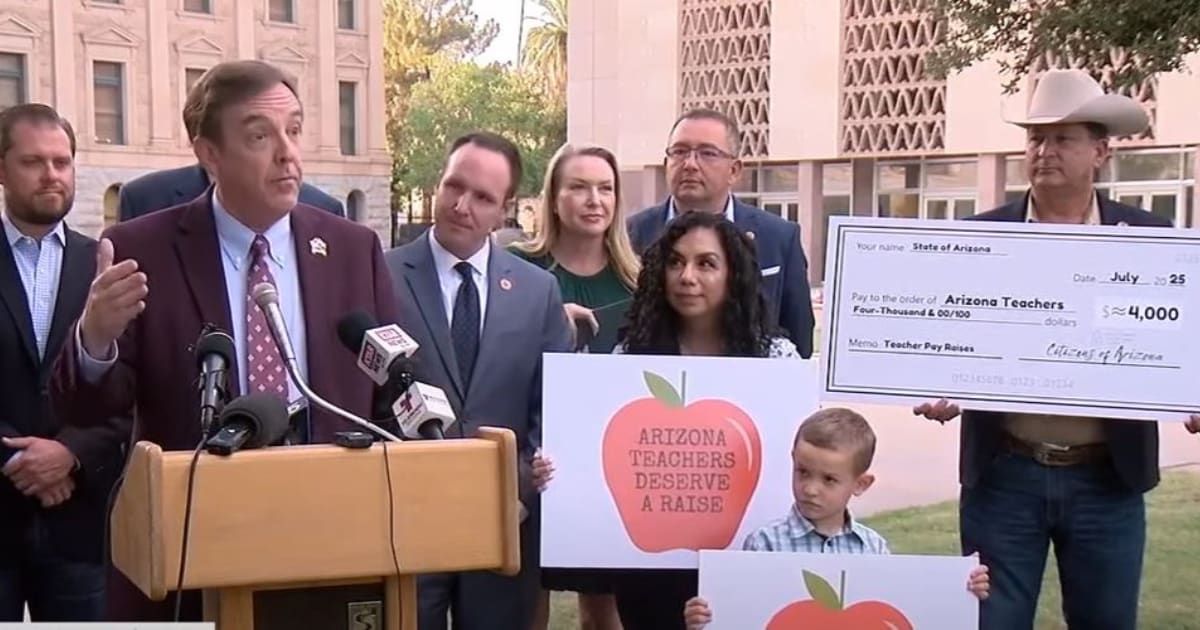 PHOENIX, ARIZONA: Republican lawmakers in Arizona have revealed plans to introduce legislation called the "Teacher Pay Fund," which aims to improve pay for K-12 teachers in the state by 7 percent.
What is the Teachers' Compensation Fund?
Also read: Tornado rips through Arizona's Star Valley, damages several homes
Senate President Warren Petersen unveiled the proposal to increase the average teacher's salary from $56,000 to more than $60,000 a year, funded by the Land Endowment Fund – a long-term education fund term.
What does the National Education Association survey say about teacher salaries in Arizona?
Notably, the National Education Association survey places Arizona's average teacher salary 32nd nationally, while per-pupil spending ranks 49th in the country.
The Arizona School Personnel Administrators Association survey found that of 7,518.3 teaching positions open at the start of the school year, 29.7% remained vacant as of September, partly attributed to teacher salaries at the 'Arizona.
Also Read: Bright Angel Trail Death: 65-Year-Old Arizona Man Dies While Attempting 18-Mile Round Trip in Grand Canyon National Park
Beth Lewis, executive director of Save Our Schools Arizona, noted that the state's ongoing teacher shortage is exacerbated by low wages and inadequate working conditions, making it difficult to recruit educators.
Julie Garcia, a preschool teacher for 12 years, expressed the financial challenges she faces: "Teacher pay has been my biggest challenge in recent months, especially during times of inflation. There are more times than I would like to admit that my family has had to wait a few days to get groceries or get gas or have to use the dreaded credit card," Garcia said at the conference. Monday press.
Also read: Elementary centennial tragedy: Arizona child killed by falling metal door at school
"This is alarming for me and my family. Many teachers have second or third jobs and work numerous odd jobs to survive.
Statistics from the Institute of Education Sciences indicate that 15.8% of public school teachers held additional jobs outside the school system during the 2020-2021 school year, earning an average of $6,100 .
The GOP's proposed Teacher Pay Fund aims to close this financial gap.
Lawmakers, educators debate proposed teacher pay fund
Rep. Matt Gress praised the proposal because it ensures every dollar benefits classrooms directly, avoiding administrative costs and union complexities.
"What I really like about this proposal is that it puts 100% of every dollar into the classroom. Arizonans want teachers to be paid more. Arizonans want more money spent in the classroom," said Rep. Matt Gress, R-Phoenix.
"It's time to do what it takes to bypass the administration and education unions and give our teachers the pay raise they deserve." »
However, House Democratic Whip Nancy Gutierrez raised concerns about potential obstacles to implementing the proposal, citing imbalances caused by past initiatives such as universal school vouchers, which Democrats say , created a budget deficit of $400 million.
The Arizona Education Association supports teacher pay raises but says the current proposal is insufficient.
President Marisol Garcia stressed the need to include education support professionals in any increase, highlighting their underpayment and impact on students' daily activities.
Lewis of Save our Schools in Arizona stressed the importance of a holistic investment in education, pointing to deficiencies in the number of counselors, librarians and nurses in schools and the burdens placed on teachers.
The proposed teacher pay fund has sparked debate among lawmakers and educators, raising questions about the comprehensiveness needed to address the multifaceted challenges of Arizona's education system beyond simply increasing pay teachers.
More than
Hans Schmidt: Arizona religious leader, 26, fighting for his life after being shot in the head while preaching
Internet divided as Arizona State University cancels event with Rashida Tlaib after she defends call for genocide against Jews