Olivia Dunne reveals the 'big boy' in her life in TikTok video, curious fans ask 'what about Paul Skenes'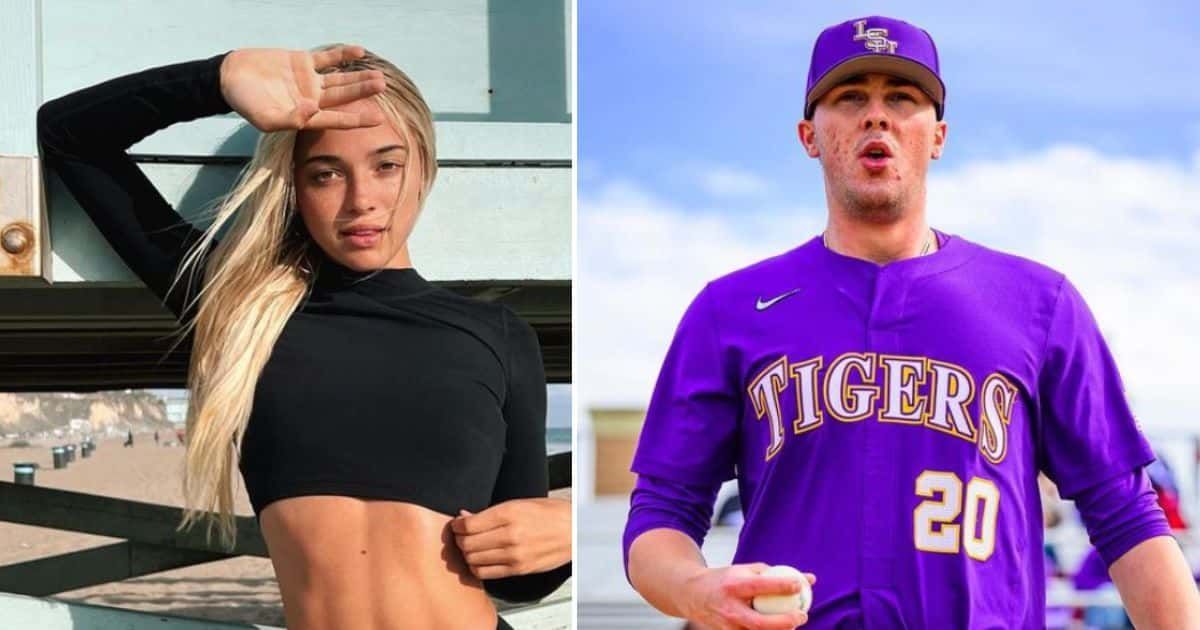 BATON ROUGE, LOUISIANA: TikTok sensation Olivia Dunne revealed the "big boy" in her life to her 7.8 million followers in her latest post on the video-sharing app.
Dunne revealed his relationship with pitcher Paul Skenes in 2023, who graduated from LSU with a 12-2 record and 1.69 ERA and was drafted by the Pittsburgh Pirates.
Also read: Olivia Dunne talks about starting her own brand and wants to put her entrepreneurial skills to good use
Who is Olivia Dunne's 'big boy'?
Olivia Dunne subtly hinted at her boyfriend Paul Skenes in a recent TikTok video. Dunne was seen dancing to "Big Boy" by Keke Palmer, SZA, Cecily Strong, Ego Nwodim and Punkie Johnson in the video uploaded Tuesday.
Dunne also sang the line "I need a big boy. I want a big boy."

TikToker Olivia Dunne and Paul Skenes of the Pittsburgh Pirates were spotted together (paulskenes/Instagram)
Also Read: Olivia Dunne Shares Where She Gets Her Beauty From in TikTok Video, Excited Fans Say 'Stunning Runs in the Family'
Since Dunne said it was "that time of year again, cuffing season," a slang term for fall romance, many people assume this was a reference in Skenes. Although Dunne didn't name anyone.
---
@livvy
Mission accomplished✅
♬ Big boy – 🫂
---
Also Read: Adorable Duo of Olivia Dunne and Pet Roux Dance to Saweetie's 'Best Friend' Goes Viral: 'Bestie 4L'
Dunne seems to have finally come to the conclusion that flirty videos are more popular than gymnastics routines. A photo from last summer's New York Yankees home game in the Bronx is further proof.

Olivia Dunne appeared to allude to her boyfriend Paul Skenes by referring to a "big boy" in her latest post (@livvydunne/Instagram)
The rising star admitted her fame came at a price, saying she could no longer attend sessions in person and had to travel safely. She now has a "big boy" to watch over her.
Olivia Dunne Fans Want to Know About Her 'Big Boy'
As soon as the video surfaced on the internet, fans started wondering about Dunne's "big boy." One of them asked: "Paul?? To this Dunne replied: "That's my boy."

Olivia Dunne fans ask her about her "big boy" (livvy/TikTok)
Another commenter asked, "What about Paul?

The reaction of Olivia Dunne fans (livvy/ TikTok)
Dunne's fan mentioned Paul Skenes' height, saying he was a tall boy, "Paul Skenes is 6'6 for a reason."

The reaction of Olivia Dunne fans (livvy/ TikTok)
Another added: "The real ones know this is a repost," to which Dunne replied: "It's not."

Reaction from fans of Olivia Dunne (livvy/ TikTok) This article contains remarks made on the Internet by people and organizations. cannot independently confirm them and does not endorse the claims or opinions made online.
More than
Olivia Dunne and Boyfriend Paul Skenes Flaunt a 'Team' Moment With NBA Legend Shaquille O'Neal
Olivia Dunne Stuns Fans By Hinting At Mystery Woman In Paul Skenes' Life: 'My Boyfriend Has 2 Girlfriends'