Olivia Dunne and Paul Skenes' Adorable Height Difference Wins Hearts
BATON ROUGE, LOUISIANA: Since making their relationship official, Olivia Dunne, also known as Livvy to her fans, and her MLB beau Paul Skenes have unabashedly shared their romantic moments in photos.
What intrigues fans, aside from their growing affection, is the notable height difference between the Gen Z couple.
Also Read: Olivia Dunne Shares Photo With Boyfriend Paul Skenes On Her Instagram For The First Time, Internet Says 'Hate This Guy'
In an interview with the Pittsburgh Post-Gazette in August 2023, the Pittsburgh Pirates pitcher confirmed his relationship with Dunne.
Height Difference Between Olivia Dunne and Paul Skenes
TikTok star Olivia Dunne, who has long been making waves in the world of gymnastics, stands at 5 feet 6 inches (1.67 m/167 cm), while on the other hand, the #1 pick of the MLB, Skenes is 6 feet, 6 inches (1.9 m/198.1 cm) tall, making Dunne 12 inches shorter than Skenes.

Olivia Dunne and Paul Skenes' love is obvious (livvydunne/Instagram)
Also Read: LSU Star Athlete Olivia Dunne Shows Off Flawless Backflips and Air Flips on Social Media
Dunne had stated on her website that she intended to pursue gymnastics solely to wear a sparkly pink leotard.
She eventually fell in love with the sport and became an elite gymnast at the age of eleven, becoming the country's youngest elite international junior qualifier.
Also Read: Olivia Dunne Flaunts Brown Hair in AI Wave Experiment, Fans Call Her 'IT Girl'

Paul Skenes made his relationship official in August 2023 (@livvydunne/Instagram)
On the other hand, No. 1 overall draft pick Skenes signed a historic Major League Baseball deal with the Pirates in July 2023.
With his $9.2 million signing bonus, he broke the previous record set by Spencer Torkelson, who signed with the Detroit Tigers in 2020, which was $8.4 million.

Olivia Dunne and Paul Skenes have a significant height difference (paulskenes/ Instagram)
Livvy and Skenes are pet parents
Livvy and her boyfriend Paul Skenes bought a dog named Roux together and Livvy even created an Instagram account for the pup.
The 21-year-old LSU gymnast started Roux's social media account on Oct. 23 and shared several photos of the pup, as well as one of her with Skenes.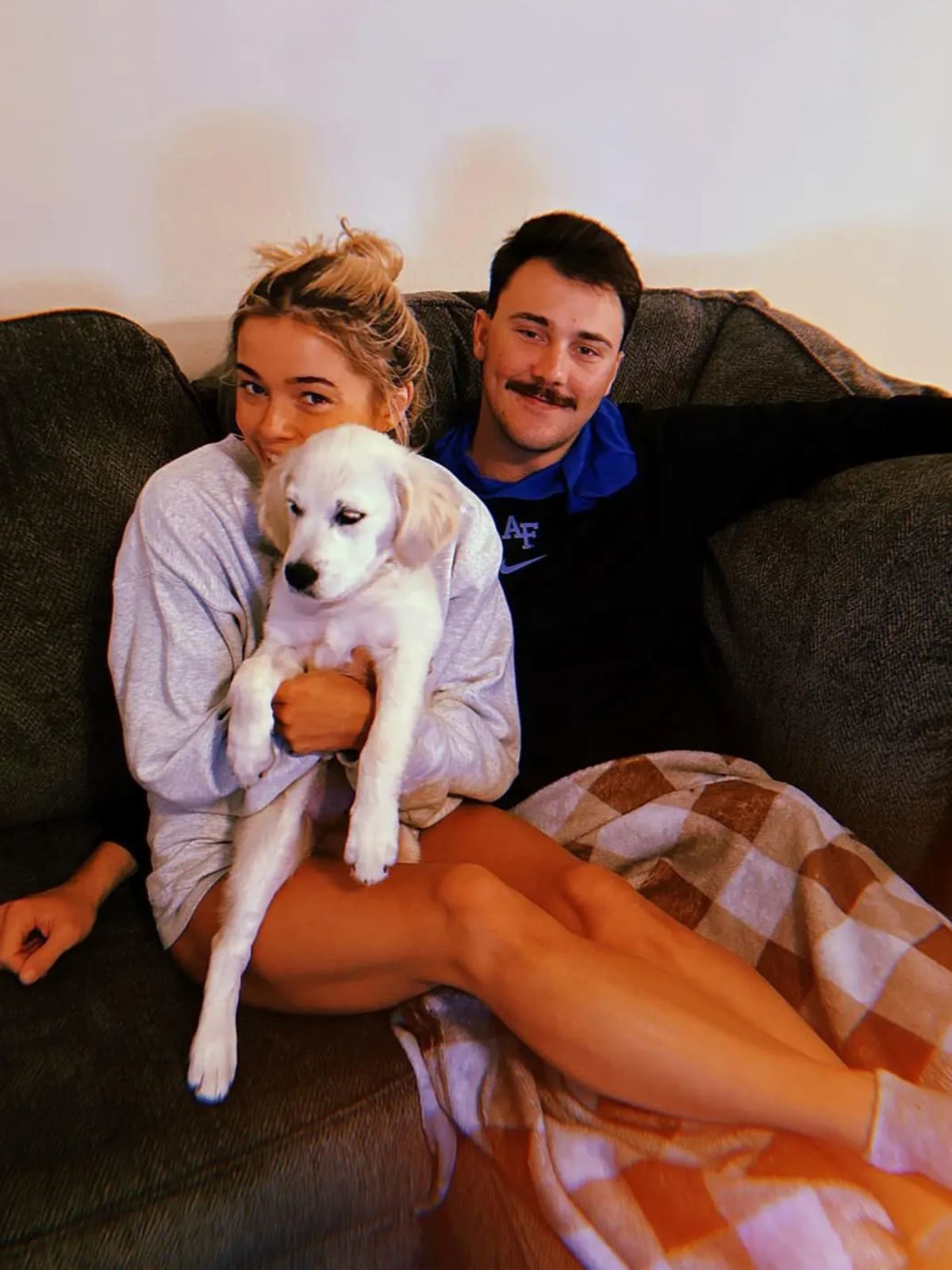 Olivia Dunne and Paul Skenes are pet parents (@livvydunne/Instagram)
Rumors about Dunne and Skenes' connection have always existed, but they gained momentum in August after she was photographed during Skenes' debut with the Bradenton Marauders.
Dunne and Skenes have been cheering for LSU together since the start of the football season. Dunne posted a video of them holding hands and supporting the team earlier in October.
More than
Olivia Dunne Recreates Kim Kardashian's 'MTV Cribs' Episode in Viral TikTok Video, Internet Calls It 'Funny'
Olivia Dunne stunned as she receives two pairs of 'cool' personalized trainers: 'I'm wearing this on dating day'