Khloe Kardashian Slammed As She Rents Movie Theater For Watching 'Trolls' With Daughter True
LOS ANGELES, CALIFORNIA: "The Kardashians" star Khloe Kardashian recently booked the entire theater so her daughter True Thompson could attend the premiere of "Trolls Band Together." True's friends and Rob Kardashian's daughter Dream were also there to watch the upcoming film.
Khloe shared a series of photos with her daughter True and niece Dream on Instagram. The reality star also shared a video of the kids as they donned Trolls character wigs and danced to her song.
Read also: 9 celebrities who regretted going under the knife
She also shared a close-up product look at the latest installment of the Universal Pictures film. Alongside the series of photos, the reality star wrote: "TROLLS!!! This was the cutest movie!!! We laughed and sang throughout the movie! @trolls thank you so much 🩷."
However, the reality star received backlash for booking the entire theater just for her children. One social media user commented: "Of course she had the whole place to herself."
Another person added: "I will never understand the art of 'gifting' to the rich. It blows my mind 🤯." Another netizen said: "Room to yourself? You have to start exploiting them young so they get used to it."
Another reviewer wrote, "It's sad that as kids they have to be separated from the audience to watch a movie safely, but they don't have much interaction with other kids." Another follower wrote: "Their kids will never know what normal life is!!!"
Also Read: Internet Says Khloe Kardashian Had Her 'Miley Cyrus Moment' As 'Kardashian' Star Swings From Chandelier During Photoshoot
Another Instagram user noted: "Don't companies realize we don't want to see this? We're not impressed how much you spoil celebrities with frivolous spending." "Do you think these children will ever know that other children go to the theater? » asked another person.
---
View this post on Instagram
---
Also read: "She's Blackfishing": Khloe Kardashian's complexion in Bratz doll outfit for Halloween raises eyebrows
Khloe Kardashian faces backlash over her parenting skills
Khloe Kardashian was recently criticized for her parenting skills as she let her daughter, True Thompson, listen to an explicit song. The reality star shared a video on her Instagram Stories featuring her daughter True and niece Dream.
In the video, the reality star pointed the camera at the two little ones as they sat on the gym floor. The cousins ​​showed off their workout exercises while sitting near the exercise equipment.
True covered her nose with her hands because she needed to sneeze. Meanwhile, his mother shouted, "Let's go get the hand sanitizer!" »
Notably, the Doja song, "Kiss Me More," playing in the background, sparked outrage on the Internet.

Khloe Kardashian faces backlash over her parenting skills (Khloe Kardashian/Instagram)
How many children does Khloe Kardashian have?
Khloe Kardashian shares two children, True Thompson and Tatum, with her ex-boyfriend, Tristan Thomsons. In December 2017, Khloe announced that she and the NBA player were expecting their first child together.
In July 2022, it was reported that True was expecting her second child with Tristan amid the NBA player's cheating scandals. However, the ex-couple welcomed their son, Tatum, via surrogacy in August 2022.
Although Khloe and Tristan are not together, they are co-parents to their children.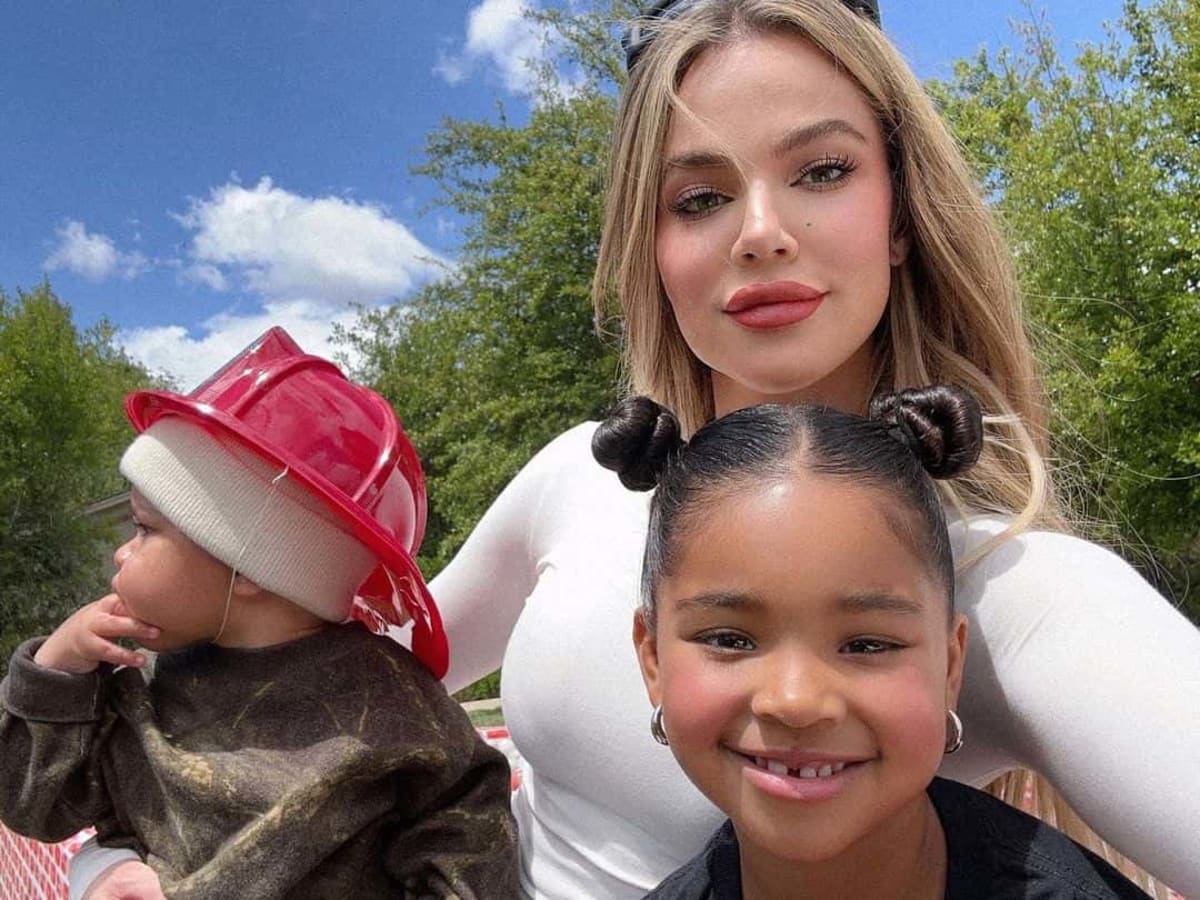 Khloe Kardashian has a son Tantum and a daughter True (Instagram/@khloekardashian)
Khloe Kardashian's Ex Tristan Thompson Feels 'Disgusted' After Cheating on Her
NBA player Tristan Thompson cheated on Khloe Kardashian twice and ruined her relationship with the Kardashian clan. However, on the latest episode of "The Kardashians," Tristan admitted he felt "disgusted" after cheating on the mother of his children.
Tristan seemed eager to repair his relationship with Kylie Jenner and Kourtney Kardashian, who haven't been close to the NBA pro since his numerous cheating scandals. However, Tristan admitted in the recent episode that he didn't feel well after the act was over.
Tristan admitted to Kourtney: "When I cheat? I feel gross the next day." For those who don't know, Tristan first cheated on Khloe in February 2019, when he shared a kiss with Kylie's best friend Jordyn Woods.
Khloe forgave Tristan only to learn that he had cheated again and fathered a child with fitness model Maralee Nichols while he was engaged to her.

Khloe Kardashian and Tristan Thompson are currently not together (Instagram/@realtristan13) This article contains remarks made online by individuals and organizations. cannot independently confirm them and does not endorse the claims or opinions made online.
More than
'Did something happen?' Khloe Kardashian's Post About 'Matthew Perry' Leaves Fans Confused
Khloe Kardashian is slammed online as she celebrates Halloween with ex Tristan Thompson's best friend Savas Oguz.