'I always loved you Donny': Seth Meyers mocks Trump's revenge plans after becoming president in 2024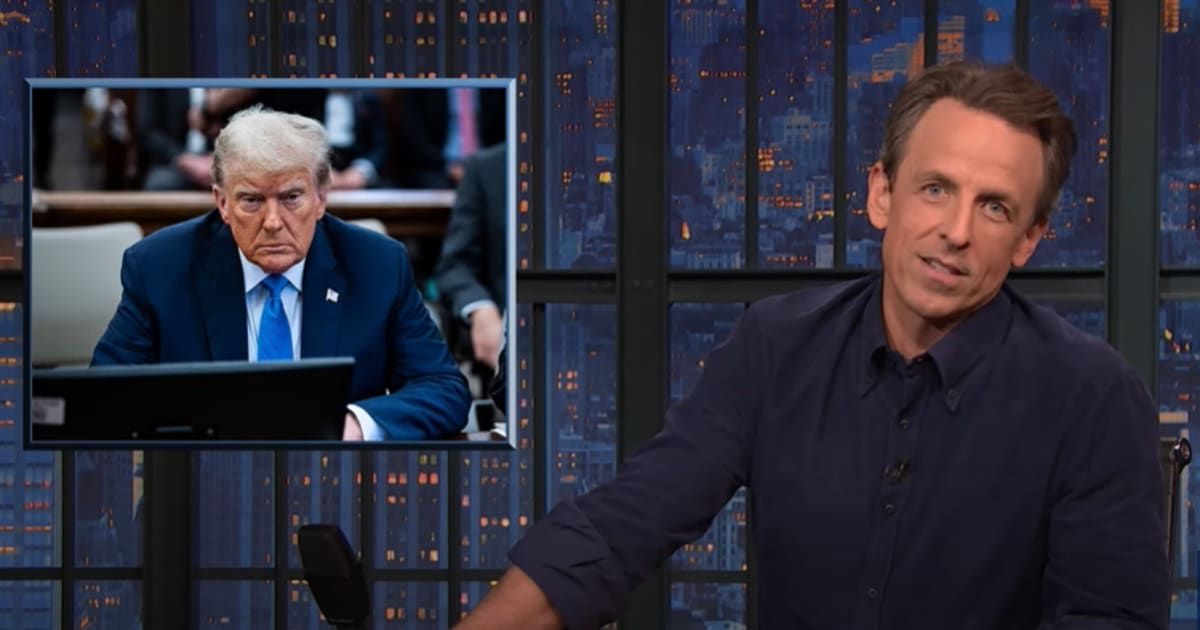 LOS ANGELES, CALIFORNIA: In a recent "A Closer Look" segment, Seth Meyers took aim at former President Donald Trump's stated intentions for a possible second term in the White House.
Amid Trump's ongoing legal battles and looming trials, his focus appears firmly on a potential 2024 presidential bid and what he might execute if he reclaims the presidency.
Also read: Jenna Ellis slammed testimony that Donald Trump didn't want to leave the White House after 2020 election defeat
Seth Meyers launches scathing criticism of Trump
Meyers delved into a New York Times article describing Trump's alleged plans, highlighting the ex-president's propensity to retaliate against his critics and implement strict immigration measures, including mass deportations and creation of sprawling detention camps.
Unsurprisingly, Meyers minced no words in his response to these reported intentions.
In a doctored clip, mimicking a sycophantic tone toward Trump, Meyers jokingly poured faux admiration on the former president, declaring, "I always loved you, Donny. I hide it under a veneer of contempt because I'm afraid to show my true feelings. But I always thought you were handsome, strong and rich, and that you never cheated at golf.
Also read: How Julian Assange did the unthinkable and brought AOC and MTG together on the same team
However, Meyers quickly shifted gears, without making any gestures, and offered his true take on Trump's aspirations: "F**k that asshole. The idiot racist thinks he can step in and establish a dictatorship in 2024 despite, like, nine rounds of measures. handcuffed."
---
---
Also Read: 'You know Thanos is the bad guy': Vivek Ramaswamy trolled as he vows to 'fire 50% of federal bureaucrats'
Throughout his segment, Meyers ridiculed Trump associates, citing Rudy Giuliani and Steve Bannon as "criminal morons" incapable of speaking coherently without potentially simultaneously committing a crime.
Seth Meyers condemns Trump's disturbing rhetoric
Additionally, Meyers criticized Trump's rhetoric, particularly highlighting a Veterans Day speech that transformed a moment intended to honor veterans into a thinly veiled call for the elimination of perceived enemies in the country .
Meyers joked: "Dude, you're a former game show host. You're not General Hux. Usually veterans want to hear something like 'we'll honor your sacrifice,' not 'we'll root out the vermin from the 'interior. " "
Beyond the comedic jabs, Meyers also expressed genuine concern, emphasizing that Trump's authoritarian leanings, coupled with support from the Republican Party, pose a serious threat to democracy.
He highlighted the unwavering loyalty of Trump's children, playfully portraying them as extensions of their father's controversial behavior.
Amid the satire and humor, Meyers emphasized the serious nature of Trump's potential return to power and the implications it would have for the democratic fabric of the United States.
More than
As White House Cocaine Bag Photos Released, Internet Asks If They Ever Blamed Donald Trump
'Next impeachment, Commander': Marjorie Taylor Greene mocked GOP defectors in vote against Homeland Security secretary