Chael Sonnen Calls Joe Rogan and The Rock's Recent Meeting 'Awkward': 'Pretending to Be Happy'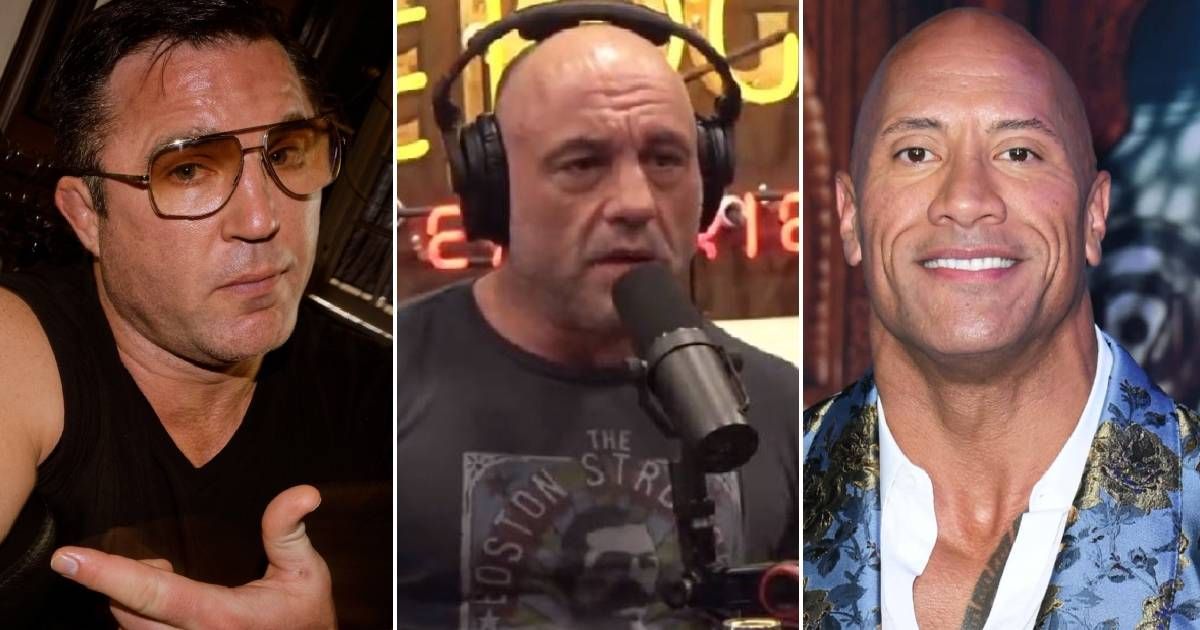 AUSTIN, TEXAS: Joe Rogan's podcast, "The Joe Rogan Experience," featured a number of well-known celebrities last month, and Dwayne Johnson, often known as "The Rock," was one of the most recent guests.
However, MMA star Chael Sonnen believes the nearly three-hour segment was rather awkward for both guys due to their difficult pasts.
Also Read: Joe Rogan Talks to The Rock About His 'Chaotic' Home Life and 'Poverty' on 'JRE' Podcast: 'I Just Felt Like a Loser'
What did Chael Sonnen say?
Professional wrestler Sonnen dove into the podcaster and wrestler-turned-actor's difficult story and mocked them for not discussing their past teasing during the lengthy interview segment.
Rogan and The Rock, however, touched on a wide range of other topics in JRE Episode 2063, from global politics to Johnson's early ambitions to compete in mixed martial arts.
"The Bad Guy" believes the whole affair was a set-up to fool the audience, even though both men were extremely polite throughout the segment.
Also Read: The Rock Tells Joe Rogan He Has Democratic Friends Who Are Only 'Loyal to the Party'

Joe Rogan accused The Rock of using steroids in the past (Getty Images)
In a recent video posted to his YouTube channel, Sonnen expressed surprise that the two chose not to discuss their issues on the podcast.
Also read: Joe Rogan highlights carcinogenic asbestos in talc on "JRE" podcast
He remarked: "I told you how embarrassing it was to see these two rich, famous and successful men, pretending to be happy with each other's fame, success and riches. »
He added, "When Joe Rogan was at his lowest and they tried to cancel him… 'The Rock' piled up… 'The Rock' didn't use the R-word, in all honesty. He didn't call him racist, but he called him racist…and he tried to cancel it."
"And Joe took his little notes, didn't he?… He gave receipts, and he will mention here and there a comment about 'The Rock' on steroids… There are few receipts at over time," he added.
---
---
Joe Rogan joined The Rock for an 'intense workout'
Joe Rogan and The Rock reportedly engaged in "punching practice" on the Nov. 15 episode of "The Joe Rogan Experience."
Following the "Black Adam" actor's appearance on his show and Rogan's fantastic workout with him, the podcaster described the encounter in effusive terms, saying, "It was awesome."
Johnson made a joke saying, "Man, that was three o'clock."
He went on to say, "You and I had one hell of a workout. Then we did the sauna, we did the cold bath, we had the whole experience."

Joe Rogan posted about training with Dwayne 'The Rock' Johnson on Instagram (Getty Images)
He added: "We redid the sauna. The cold diving man…that was awesome. And I love what you're doing here, by the way, with the boys. Bringing them here, giving them the opportunity to get out there, not only in their profession, but also to get in shape.
A little more about the workout was leaked on Rogan's Instagram, where it was revealed that some of his friends, including comedian Shane Gillis, had joined him.
"Had an amazing time working out with @therock @shanemgillis @tonyhinchcliffe @duncantrussell @ehsanjahmad and @duncantrussell at the studio gym," the 56-year-old podcaster captioned the photo.
---
View this post on Instagram
---
More than
Joe Rogan Discusses 'Weird' World of Antarctica on 'JRE' Podcast, Fans Say 'So Many People Are Disappearing'
Jiri Prochazka agrees with Joe Rogan that his match ended too early at UFC 295: 'I could turn it around'